NEW CLASSES
Join our Yoga, Reiki and Meditation sessions beginning Tuesday, April 3,2018 at Essense Day Spa, 1511 Jefferson Street, Nashville, TN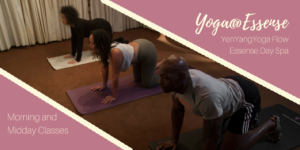 CLASS DESCRIPTION
YenYang Yoga
Kemetic, Yin and Restorative Yoga in a stimulating and rejuvenating combination of active and passive pose and posture.
PACKAGES
Purchase a package for 4, 6, 10 or 12 classes. Once you have purchased the package you will receive a code to register for classes.
SCHEDULE
Register for individual classes below.