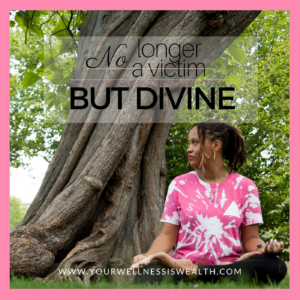 A sister and I were talking about this a few months back…On victimhood mentality and the tendency to put on victimhood as an identity…
That we have found and somehow created bonds, relationships, friendships, sisterhoods or similar that are solely based on collective brokenness, hurt or pain.
We also talked about at some point we need to let that go, if it has had its time and its place.
…I don't mean to not have a compassionate heart. I don't mean to keep your pain to yourself and to not seek counsel or assistance…I only mean to allow yourself the space for that and step into your greatness.
We all must cry our tears…shed the pain, release it…and if you have not done that. Take the time now, to do so, to release your pain, by feeling it out and through you. Experiencing it fully in order to allow it out of you. (2 Ways of Dealing with Your Emotions is a complimentary read)
"I am a healer…am I?", I thought. I considered taking hold of a purpose in life that means others are broken and to then build and create a vision around that brokenness…their need for healing, I have trouble with it…I don't like calling myself a healer…I don't think anyone has ever heard me call myself that. I may not have all those sort so details worked out, but…
I get it… and I decided that I don't want to and will not build anything around brokenness, hurt, pain or victimhood. But will instead create, inspire and remind you of the Divinity that is you.
Now, I speak to the Greater You. I speak to remind you of the greatness that you are. And that I really am, too.
Acting in accordance with the existence of that greater you and speaking to that you, so that the victim in you will evaporate.
It would be a travesty for you or I or anyone else to live this life and not experience the great divine power—the magic that is in and of –that IS who we are, simply.
Magic happens. It does for me in my life and I know it is available to all of us.
Though,
Sometimes how we miss it
….I don't want you to miss another moment of.
Don't let it be a shame anymore, to miss out on the magic.
How are You Putting On your Divinity and Taking Off Victimhood?