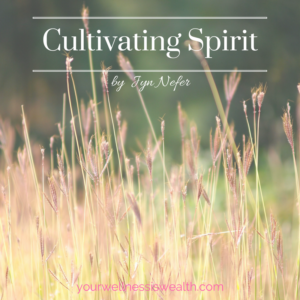 About Cultivating Spirit…
Whether we know it or not, we are all on pathwayS to the Divine.  By Divine, I mean to "God", to Christ, to good, to heaven, to love…there are so many words and ways society has decided to label the Source of All Things.
Amidst all of our pathwayS, this set of yoga classes are about cultivating spirit, creating (routine) through ritual and participating in a ceremonial manner to add focus, determination, seriousness thus making the experience more powerful.  Cultivating Spirit is practiced inside different houses of religion & faiths.  Watch our video on 5 Ways To Cultivate Your Divinity.  Attending Sunday Worship or Bible Study are examples of cultivation.  Awaking each morning to pray over your day is spiritual cultivation.  Do you "see" what I'm saying?
About our Yoga Practice…
Our practice includes libation, intention, yoga poses, meditation, visualization and relaxation.  The yoga sequence consisted mostly of earth poses, the focus of our poses were to conquer our lower nature also known as our "flesh" or our human nature.
Subsequently, we will include sage burning, silent prayer and our yoga practice will include earth poses, transitional poses and standing poses.  This evolution of movement is reflective of ascension.  A rise –An upward movement into Divine realms after overcoming the lower-animal nature.
We all practice yoga for different reasons.   Some reasons we are conscious of and others we are not.  Yoga practice, prayer, meditation (methods of spirit cultivation) offer pathways into deeper relationship with self and with the Divine.  Consistency, Emotion, Understanding, Purpose & Intention amplify the power in those pathways…
I want to assist you in these methods of cultivating spirit by providing a space for you to practice as well as learn new tools for your pathways to the Divine, supporting you by also intending that you will be able to receive what it is that you are seeking and be able to recognize when what you are seeking has arrived.
Are you Ready to Take Your Practice To The Next Level?
Learn Topics Such as The Laws Of Maat, Chakras, Aura, Spirit Guides, Color Therapy, Palm Therapy, Sound & Crystal Therapy, Pendulums and Bbecome a Certified Kemetic Reiki Practitioner, start now.
Other Articles That May Interest You:
Burning Sage (buy sage from our e-shop)
Sage Smudging to Clear Auras of Negative Energy
Science Offers Evidence Sage Eliminates Bacteria
Rituals
Why Rituals Work by Scientific American
Libations
Libation
How to Pour Libation