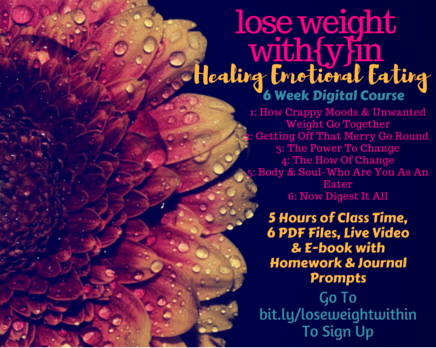 Who Is This For?
This Course is simple and self guided and it is for you
….if you have a relationship with food that you'd like to make better.
…if you sometimes use food as comfort and love
…if you are having trouble losing weight and feel that it may have to do with what you are eating or not eating
…if you know your emotions get in the way sometimes of your desired actions and impact your choices
In This Course, You Get…
6 Weeks of Support From a Trained Lifestyle Coach, Certified Yoga Teacher and Energy Work Expert with a Masters Degree in Learning and Teaching
3 Week Focus on the Thinking and Feeling of Positive Energy Flow and Transformation, and Fat Loss
How to Stop the Cycle That Leads to Emotional Energy Drains and "bad" habits
3 More Weeks of Clinically Proven Weight Loss Methods Through Diabetes Prevention…The Doing of Losing Fat and Healthy consumption Habits
Expertise, Tips, Tools and Methods for well being with the success rate to back it!
The Experience of a Community of Support & Teamwork from your Fellow Classmates
 HERE'S THE 
COURSE OUTLINE
#1 HOW LOW-ENERGY LEVELS, CRAPPY MOODS & UNWANTED WEIGHT GO TOGETHER AND HOW TO GET RID OF ALL THREE
Your Metabolism and Energy Flow Systems




Our Issues and Their Chakras

Moving Energy To Get Unstuck
#2. GETTING OFF THAT MERRY GO ROUND…
Observing Your Cycle
Body Image
Habits and Routines
#3.  THE POWER TO CHANGE
More Than Just Positive Thinking
How To Get Some WillPower
The Power of Your Simple Decision
#4 THE HOW OF CHANGE
The Equation of Weight Loss=SOLVED
The Importance of Tracking
Grocery Lists & Meal Plans 
#5 WHOLISTIC EATING
Digestion Substitutes
Vitamins & Supplements
Food Combining
#6 TIME TO IMPLEMENT & INTEGRATE
Establishing The New Routine
Integrating it All Into Your Life
Harmoniously Track and Review Progress
THIS IS ABOUT HAVING A BEAUTIFUL BODY THAT YOU LOVE AND FEEL GOOD IN…
THIS IS NOT ABOUT BEING SKINNY AND HAVING THE MEDIA'S DEEMED PERFECT BODY.
IT'S ABOUT HAVING A HARMONIOUSLY HEALTHY BODY.
IT HAS NOTHING TO DO WITH MEAL PLANS AND THE PERFECT BODY OR WORKING OUT.
WE AREN'T DOING THAT TIL THE LAST 2 WEEKS.
It is pivotal information that I wouldn't want you to miss, especially if you have unwanted body fat.
It brings your awareness to…
What's going on inside your body that creates weight gain or lack of weight loss.
The Two Forms of Energy & The Two Energy Flow Systems:The Chakras & Metabolic System
Releasing the Negative Viewpoints of Body Fat
 Supports you in getting Energy Moving For Inner and Outer Transformation
 Helps You Identify Your Own Mental and Emotional Cycles That Trigger Your Flow Systems Into Stagnation By Accessing Your Chakras.
Once purchased…You will get access to our online learning classroom.
This wellness course is virtual,
All you need is a SMARTPHONE with a data plan.
You have one video a week to watch to learn SIMPLE exercises to help you observe and improve your relationship with food.