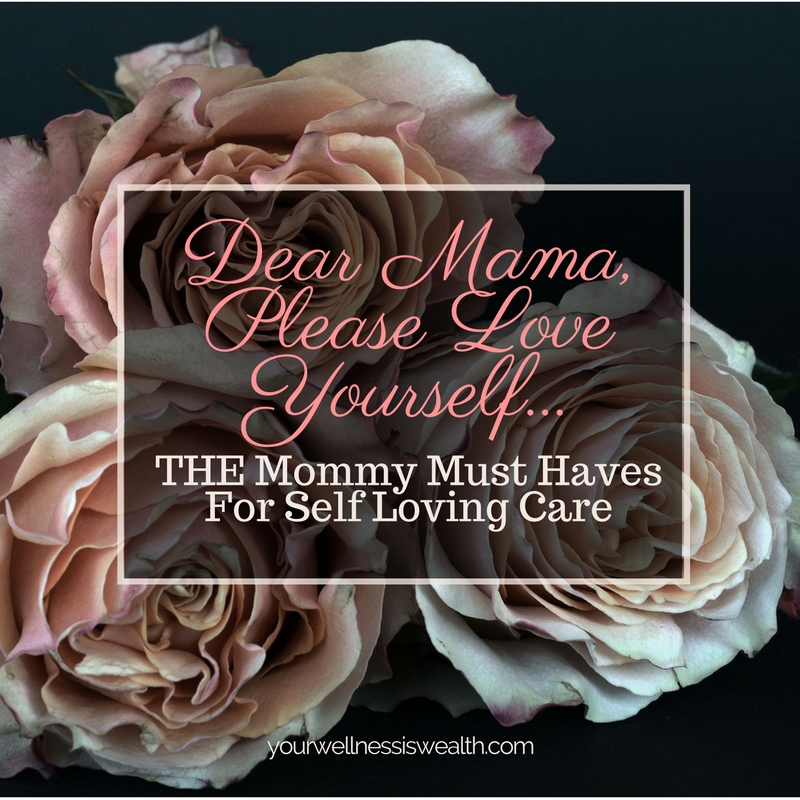 Mothers…it's time to take care of you. It is imperative that you do.
The quality of your vibration matters every second, because every second you are creating your life.
We hear it all too often, but how often are we actually taking the time to tend to us in every way needed…and I do mean EVERY way. There is no part of you that God does not desire or cannot heal within you.  Leave no rock unturned in your healing.
You matter. Your child matters. Your man matters.
Sister, this is important, you "cannot pour from an empty cup". Fill your cup first. Take the time to nurture yourself in every moment; sometimes the nurture is a mere thought of attention and regard first, before responding. A moment, when we hold everything sacred…everything in existence is sacred. Other times, it's taking a 5-minute break between each task you do in a day.
Your time, your body, your health, your emotional state—your mood, how you feel in your body…All matters, all the time.  This is a reflection of how well you are loving yourself.
It is so important that you set a foundation of self-care so that you can in turn care for your household.
When we as mothers are lacking in some area it puts our home, children and men in a position to be "off" in some way as well.
As mommies, we must keep all aspects of ourselves taken care of in a very particular manner.  This takes practice. Because it takes time to really embody an understanding of self-love and self-care. There are always ways you can love yourself more, so this process is not conclusive, its ongoing.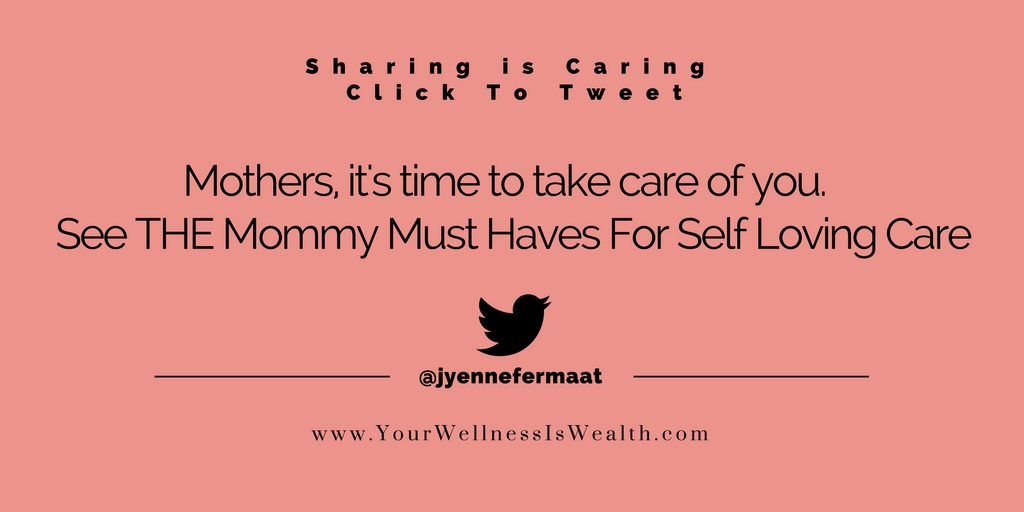 A good first step is beginning to notice yourself and how you are feeling.  Life can have us very busy and outwardly focused that we don't have the time to think about how we are feeling.  So, we must train ourselves to live life in a way that we take the time to ask questions like this and other self-nurturing questions.   This can happen when we are able to recognize that something is indeed "off" with us.  It is easy to just keep going and pushing when you are irritable, sad, exhausted and the like.  I wrote about this in the post, Dealing With Your Emotions.
When we carry these negative feelings without addressing them, they become energy drains. In my webinar on the relationship between Burdens and Body Fat, I talk about how this cycle of being in a bad mood, becoming tired, then craving junk foods for comfort doesn't help the health of our bodies; we aren't getting adequate nutrients which makes us even more tired and slows our metabolism, which encourages weight GAIN.  Is that what you want?  I guide and support women in becoming aware of their own cycles and how to successfully stop it, in my class Lose Weight Withyin.
You can reclaim your right to peace, happiness, joy, pleasure, health, ease and flow. You no longer have to settle for unhappiness, lack, struggle, stress and pain. You do not have to accept that any more.
This is a belief, which is deeply engraved into our consciousness; it is now time to release this old way of thinking.
It's ancestral, especially if you are of a lineage that was oppressed in any way. Slavery had a tremendous impact on its descendants. Dr. Joy Deguy writes about it in the book, Post Traumatic Slave Syndrome: America's Legacy of Enduring Injury and Healing
.
This is an undoing of a way of living and being that has lasted several generations and hundreds of years. Now, we must take on a higher consciousness (thoughts) in regards to how we are living and be very attentive to each day-each moment of our lives.  Where our attention goes, how our vibration resonates, how we are feeling, how we are interacting with life.  Love yourself enough to mind these things, because in these things are the very intricacies of God's design of our world.

Do you know you manifest your life based on your thoughts and feelings? You must listen to this call I did here, I go into detail.  Fast forward to time stamp 17:30, listen for awhile, then go to about 23:00  I realize That this is a tangent to this post, but it is very important and hey what's the point of it all anyway? We all want to live better lives filled with more of our desires, right?
Ok, back to loving yourself more….
The concept of loving myself alluded me for a long while. I always thought, "of course I love myself… …I would never kill or physically harm myself." Well, I would never kill or physically harm anyone, but that doesn't necessarily equate to love.   There's a wide range of love-dislike-almost-hate that can exist between love and killing something. Lol
So, I began to consider this term love in new ways, what did it really mean to love. What does it look like, feel like? Playing with this idea has enhanced my life and added so much more joy, value, health and wealth! I smile more, I'm at peace, people tell me I look 10 years younger than my age and I'm feeling closer to God, which is the most important thing to me. We all have a purpose for existing, and I assure you that purpose is not to slave on a job, live stressed and unhealthy, consumed with disease.
I invite you to play with the idea of loving yourself. How can you love yourself more?

THE Mommy Must's For Self Loving Care:
The Bare Minimum Routine: (At the bare minimum, please be sure to do these)
Take care of your skin, hair, nails, teeth and yoni (vagina)
Make sure you are naturally eliminating wastes and toxins adequately
Move That Beautiful Body. (Walking, Working Out, Dancing or Yoga)
The Self-Loving Routine (If you really want to love yourself more, try these)
Do something nice and sweet for yourself every day
Have an orgasm a day.
Practice Your Affirmations, prayers, meditations, and physical movement daily.
Schedule your me-time: journal, church, motivational audios or reading.
Take relaxing baths regularly…soak your body in water chile!
Add a budget line item for self care and wellness for mani/pedis, coaching/counseling/therapy, spas & health coaches, beauty services
Be social—hang out with your girls, plan to do the fun stuff you always talk about doing.
How are you taking sweet loving care of yourself ?
Please share in the comments.