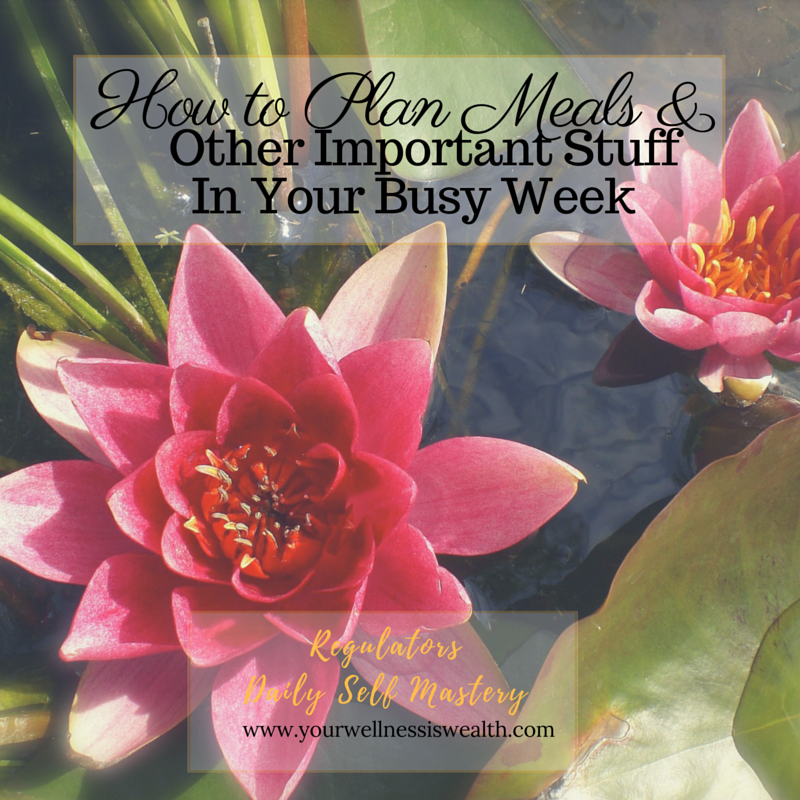 The weekend is the perfect time to sit down and do a little bit of planning for your upcoming week!  But, even if it's not the weekend, you can still plan a bit, right?  What all do you have planned this week?  Pull out your calendar and take a look…
Having school-aged children with a busy schedule of their own, being a creative entrepreneur who wants to stay in shape, look good,  as well as have a social life of my own, life gets super hectic juggling all of these!  It's so easy to loose one of these in the balancing act and when I do, I get even further "off " because each part of me needs loving care & attention.
I'm gonna share a few of the tips from my Jumpstart Program that got me into a settled routing of healthy consumption and activity, you can get it here.
First, Some of the questions I ask myself at the end (Saturdays), or beginning (Sundays) of the week are…
What will I eat this week?  Am I too busy to cook more than one or twice or will I be able to cook at home all week? Which days?  When we eat out, where at?
When can I make time to move my body this week?  Yoga, Zumba or the gym? What do I really want to do?
What  "me-time" activities do I want and need to do for myself (doing something that makes you feel better and balances you out.  This needs to actually happen every day, btw)
When will I be social and nurture my relationships? Usually this is a night out with the girls at my monthly Well & Wealthy Women dinners, a spoken word event or maybe I have a date. 😉
I also take this time, to review my budget (this is also a daily habit b/c we spend money daily, right?).  At the end of last week, when I sat down to look at my calendar and budget.  I spent too much money eating out!  And as I looked at my monthly budget, I knew I couldn't afford to continue eating out for the next two weeks.  So, I'm planning my meals, like, "hmmmm, what do I want to eat?"
I begin by…
Brainstorming what I want
Googling ideas, recipes and looking for things that don't have too many complicated instructions but ingredients I already have-mostly!
 As I find recipes, I ask myself, "Do I really want to eat this?" and " Am I really gonna eat this?" LOL.  I'll make a few changes and leave things out, like use wheat-free options ( I have an allergy), swap out veggies and use meatless options.
Then I…
Write down what meals I will eat on which days, either on my calendar or using this meal planning printable.
Start My grocery list, I use a reminder list on my iPhone.  It's titled Groceries, and is always there, I share it with my 13-year old daughter (who also has an iPhone) but she can access it, and add things to it as well.  So we have this ongoing grocery list.  I add all the ingredients I'll need from the meals I have decided I'll eat that week to the list. [Disclaimer:  I usually only need to plan my dinners.  We have staples that we always eat for breakfast, so those items automatically get added to the list each week.  As far as lunch goes, for the most part we have staples, I eat out or eat dinner leftovers or variation of dinner]
Check My Coupons! I do most of my grocery shopping at Kroger, I have the Kroger app on my phone…there are so many coupons there!   All you have to do is add your kroger plus account and simply add the coupons to your kroger card!  Super Awesome and Easy.  Plus every Friday, they have the Free Friday Download, were they give away an item, you just have to download the coupon on Fridays but you can pick it up any day!
Plan to go to the Grocery Store…Decide When You Will Go!  Look at what you have to do and when you have free time.
That's it!  I hope this helps you regulate your weekly and daily tasks.  I have a Facebook group for those of us working daily towards self-mastery of our whole-selves…Join Here.
Where do You plan?  Keep up with important tasks and dates, to-do lists, grocery lists, or even coupons?  What's your system for life organization?