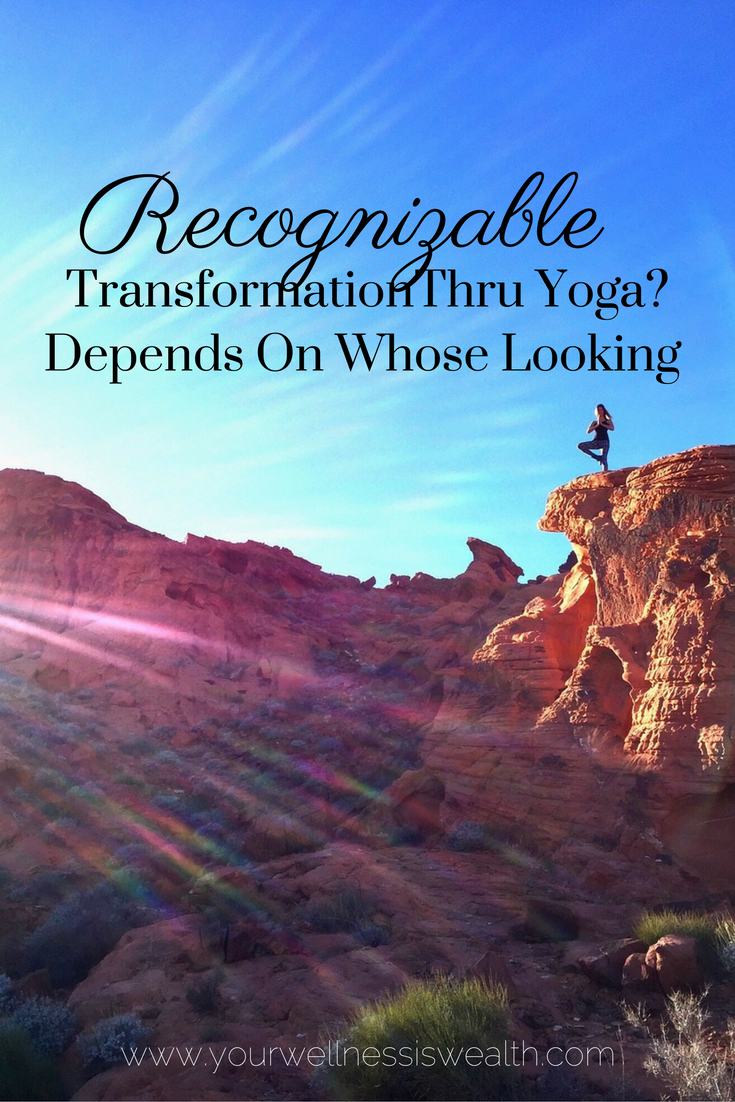 I discover new things everyday about yoga, it is a healing art, a tool that assists and facilitates in one's transformation.  What's transformation? Transformation describes the entire process of some object changing from what it once was to something entirely new.  Transformations occur all the time, every time we discover something new about our selves through lessons, through faith, whenever we go through experiences that change our perspectives or feelings about certain things–Transformations occur.  Yoga and all that involves it assists in transformations occurring.  It happens to have many physical benefits… I believe the physical benefits are the manifestations of changes occurring on the inside.  As all things begin in the unseen before they are seen in this physical reality.
I watched a documentary about a woman who wanted to prove that yoga can create change/transformation for a practitioner.  The woman selected a young male journalist to be her test subject and sponsored his quest for the ultimate yoga definitive experience.  The young man was looking to understand the hype about yoga and had an accepted viewpoint, that yoga was the path to enlightenment.  He was seeking to be convinced of this "fact" and to experience this enlightenment.  They traveled around the world, visiting with all of the advanced yogis and gurus–creators of various forms of yoga.  He was very left brained, attempting to make sense out of the practice by seeking sequential tests to enlightenment to prove to himself that yoga "works".  Nonetheless, he did not get the answers he sought.  Subsequently, the sponsor became frustrated that her test subject was not having the experience she thought would become of the journey.   Instead, the test subject began experiencing feelings of missing his mother and wanting to go home to see her, while he was off in India interviewing all the gurus.  His mother who was a Shamanic healer, whom he had not identified with in awhile and was a bit estranged with.  His parents had been divorced since he was 2 years old, yet it did not register to him that the surfacing of these emotions were indeed valuable.
Did the young man experience transformation? Sure, he did.  He uncovered his mommy issues and perhaps began healing the feminine side of who he is.  He used a physical practice, yoga, that involves everything from balancing, strengthening, enduring, meditating, breathing, etc and he brought "enlightenment" awareness to his innerself.  Did he deem his experience valuable?  Did he recognize the connection between his yoga practice and the surfacing of the issues he held with his family?  Well, once he returned home, he got a new job, moved to a different state pursuing his passion of rock climbing and his mother began visiting him often.  Yet, he stopped practicing yoga.
Now, you tell me if he experienced a transformation or not.
Could it be that as one begin's to conquer his or her physical limitations, one begins to influence her innerself?  Well…the question remains is what's inside of you?  Do we have an innerstanding of our inner makeup?
What is Yoga?  There are so many definitions and I, too, am on the quest, to discovering this.  I can say that yoga can be defined by the practitioners' experience of it…..and just being the observer…that way you can see, know, touch, feel, and be what yoga is.
What does yoga mean to you?  Your body is a microcosm of the macrocosm of the universe.  It is also a physical manifestation.  Yoga is about union and bringing more the God within into oneness with your being.

How have you recognized yoga's transformation in your own life?
Are you ready for a deeper practice? You will want this guide in self-discovery of yoga.
Originally published 1/27/13 @3pm.